5/31/5 VanWert County From OhioBirds@Envirolink: " ... Jean was driving from Van Wert to Lima about 10:30 AM today and had 23 dark-colored IBIS fly overhead across SR 116, headed north. She was able to pull off and get binocs on them, but could not ID them as to species. --Jean & John Perchalski, Van Wert, OH"
5/29/5 Putnam County From OhioBirds@Envirolink: "This evening I had a male Wilson's Phalarope on a small wetland in northeastern Putnam Co near Leipsic. Other shorebirds present included: semipalmated sandpiper, semipalmated plover, spotted sandpipers and killdeer. --Ryan Schroeder, Dublin, OH"
5/25/5 Williams County 16/C The Canada Geese, Mallards and Great Blue Herons were at the other end of the marsh, so I was able to get close enough to count 44 Dunlin, 15 Semipalmated Sandpiper, 6 Spotted Sandpipers, TWENTY-SIX Semipalmated Plovers, a WHITE-RUMPED SANDPIPER, and what had to be a SANDERLING... in winter plumage! Stumbled upon my first of the season Grasshopper Sparrows at the Williams County Airport at 16/D.
5/24/5 Williams County 16/C 32 Dunlin, 5 Semipalmated Sandpiper, too many Canada Geese to get too close...
5/23/5 Paulding County Sewage Lagoons Black Tern as well as Chimney Swifts, Spotted Sandpipers, and all six of the swallows (including Cliff and Martins). I was pleased to find that for once Banks outnumbered the rest. Stokely Ponds/St Paul's Cemetery Pond Canada Geese & Mallards Black Swamp Nature Center 7pm andstill hearing Warblers (Yellow, Common Yellowthroat, Magnolia, Redstart etc) but the only one to reveal himself was an exhibitionist Chestnut-Sided. Domestic Columbine in a variety of colors, and Ajuga were in bloom (how'd they get here?), as well as Bullhead-Lily. Even more Canada Geese and Mallards, and a Wood Duck. Reservoir Empty Williams County 16/C Dunlin & Semipalmated Sandpipers, again, about 50 of each. Too many Canada Geese and their families didn't allow for scoping-- if I spooked the geese, I spooked the shorebirds-- so it's certainly possible (and frustrating) that more tantalizing species were among those further back... Also BlueWinged Teal, 3 RingBilled Gulls, Mallards, etc. Defiance County Sherwood BlackThroated Green has been singing in the front yard every morning for a week, still here this morning. And a Raccoon at the feeder in broad daylight.
5/22/5 Lucas County Nature Conservancy's Kitty Todd Bastard Toadflax and Cypress Spurge in bloom, but also SPOTTED TURTLES!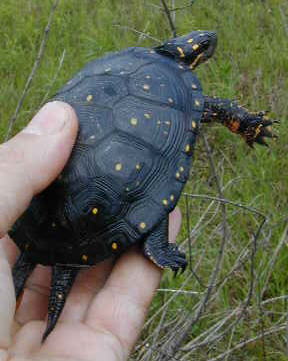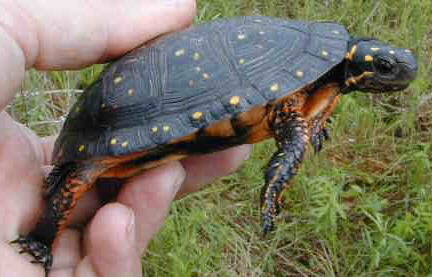 and a Woodcock nest!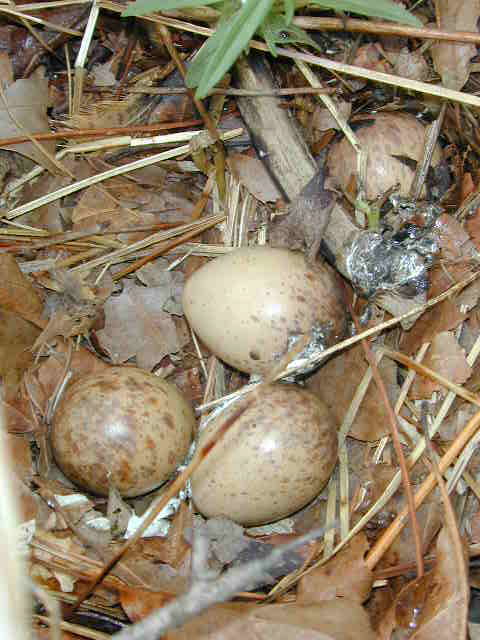 5/21/5 Lucas County Nature Conservancy's Kitty Todd Wow! Amazing day! First-of-year's LARK SPARROW of course, but also blooms, blooms, blooms: PUCCOON (Hairy, Hoary and another kind my Peterson 1968 wildflower book didn't even list: Plains Puccoon-- L. caroliniense), what I think is my first ever STARGRASS, and first ever BRITISH SOLDIERS (a lichen I was told), I also think my first ever BLUE-EYED GRASS (I don't see stems in the pictures so I'm thinking S. montanum), plus WILD LUPINE,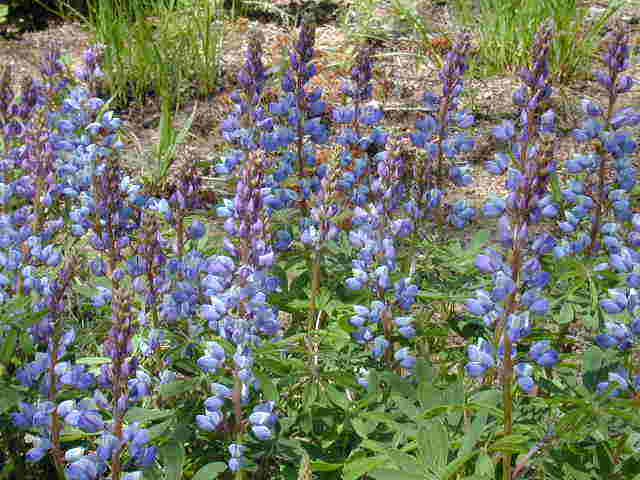 Common Cinquefoil, Wild Oats, what I'm thinking was LANCE-LEAVED VIOLET, a small bush I think has to be Blueberries or Huckleberries (hafta check the pix more closely later for these two)... and butterflies were incredible: My first ever KARNER BLUE BUTTERFLIES (federally endangered) both male and female,

plus first-of-season for me Tiger Swallowtails. Oak Openings First-of-year SUMMER TANAGER, BIRDFOOT VIOLET, Cicely, and first ever HORACE'S DUSKYWING, many other Duskywings, first-of-season for me Spicebush Swallowtails. Probably I'll remember more later... Enroute home don't ever do what I did: stop on busy US24 on a Saturday afternoon long enough to take a picture of the Bald Eagle nest there (two adults at top, juvie at middle bottom on nest):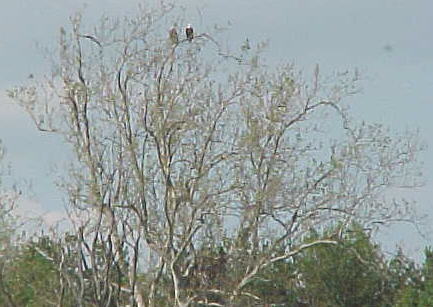 5/20/5 Williams County 16/C 55 Dunlin, 1 Semipalmated Sandpiper...
5/19/5 Williams County 16/C 28 Dunlin, 15 Short-Billed Dowitchers, 5 Semipalmated Sandpipers, ignoring Blue Herons, Canada Geese, Killdeer etc. Defiance County Oxbow Lake Warblers showed up! but nothing new for the year. Highbush Cranberry, Amur Honeysuckle, and what I think was Coral Honeysuckle (never noticed it here before) are in bloom. Independence Dam Warblers here too, but only new bird for the season today was Pewee. Dame's Rocket, Wild Columbine, and Cow-Parsnips in bloom.
5/18/5 Williams County 16/C 17 Semipalmated Sandpipers, 15 Dunlin, 2 Least Sandpipers, 2 Semipalmated Plovers, 2 ShortBilled Dowitchers, a BLACK TERN, and my first WHITE RUMPED SANDPIPER of the year-- extremely cooperative too! SR576/C A Soitary Sandpiper and 2 RingBilled Gulls.
5/16/5 Williams County 16/C After the Black Swamp Audubon meeting, in the few minutes before 9pm, Audrey G, Bob & Jo Ann Z, Jon & Cindy D, and I found Dunlin, ShortBilled Dowitchers, Pectoral/Semipalmated/Least Sandpipers. Better yet was my first Spotted Sandpiper and Common Nighthawk of the year. Other more usual birds: Canada Goose, Mallard, BlueWinged Teal, Great Blue Herons, Killdeer, Mourning Dove, Tree and Barn Swallows, Bluebirds, Robins, Starlings, Savannah Sparrows, RedWinged Blackbirds, Eastern Meadowlark, Common Grackle, and Goldfinch. (23 sp)
5/15/5 Defiance County Oxbow Lake Nothing new here, but why should there be? Lots of fishermen and trap and skeet shooters. Did find Wild Flax, Solomon's Seal, and Philadelphia Fleabane in bloom, plus a Garter Snake. It's still so cold! 43 degrees!
5/14/5 Ottawa County A truly awesome day at Crane Creek/Ottawa Refuge/Magee Marsh! I was privileged to see TWO WHITE-FACED IBISES on the causeway into Ottawa Refuge, and then later on the last section of the driving trail at Ottawa THREE (?!!?) WHITE-FACED and EIGHT (?!!?) GLOSSY IBISES in one group on the last section of the driving trail at Ottawa. It was incredible watching these birds fly in and then casually dine while car after car pulled in and scope after scope was pulled out!

Next best shocker: a VIRGINA RAIL, mere feet from the driving trail at Ottawa Refuge, seen by many, with calling Sora on both sides. Then, as if that wasn't enough a YELLOW-HEADED BLACKBIRD, with amazing views, again seen by many, smack in the middle of where the driving trail turns on itself. Other first of season birds for me (sure beats waiting at home in Defiance County for them to show up-- a definite non-migrant trap county): COMMON MOORHEN,
Marsh Wren, GrayCheeked Thrush, Nashville, OrangeCrowned, Tennessee, BlackThroated Blue, BlackThroated Green, Blackburnian, Wilson's, ChestnutSided, Blackpoll, American Redstart, Canada Warblers, Northern Parula, Northern Waterthrush, Common Yellowthroat, Ovenbird, Scarlet Tanager, and Lincoln's Sparrow. A BlueHeaded Vireo and Least Flycatchers get honorable mention for not being their usual shy selves, instead basking in the wide open for great views! An Osprey and the Bald Eagles get accolades, too... Stunning day!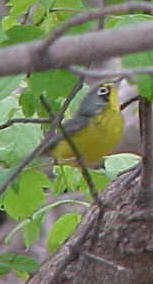 Paulding County Black Swamp Audubon Sanctuary at Antwerp Micki Dunakin and Ms S. report the first Marsh Wren seen here!
5/13/5 Williams County 16/C Over 100 shorebirds, ten of them ShortBilled Dowitchers, half of the rest were Dunlin, and the remainder divided among Pectorals and Semipalmated per usual. Pipits, two Coromorants and two RingBilled Gulls Paulding County From OhioBirds@Envrirolink: "Greetings from the edge of Ohio, Today was a great birding day for some and so-so for others,depending on where you were in our lovely county. My wife chose the right path, the wooded streambanks where dwell the warblers, and I chose the water's edge, where my big thrill was scaring off six Double-crested Cormorants at the Paulding Reservoir. Fortunately, I did come across a small herd of Semipalmated Sandpipers at the Thomas Wetlands, so the day wasn't a total loss. Micki's visit to a local woods ended with a nice total of 14 species of warblers, among which were Tennessee, Nashville, N. Parula, Yellow, Chestnut-sided, Magnolia, Yellow-rumped, Bay-breasted, Black-and-White, Am. Redstart, Ovenbird, C. Yellowthroat and the Skulkers: Mourning (2), Connecticut (This is a 4 star bird out this way.) Her efforts also included Philadelphia Vireo (always a good bird here), Gray-cheeked Thrush (1st of the season), and Scarlet Tanager. The moral of the story- If you come to Paulding County, make sure to bird with the right Dunakin. That was what I should have done. Bird long and prosper, Doug & Micki Dunakin, Antwerp, O."
5/12/5 Defiance County Oxbow Lake A few minutes before work: while listening to a YellowThroated Vireo, a deer and a hen Turkey walk by without seeing me. Of course, the loud blustery wind (in the forties!) may have helped. Only new birds for the season: RedEyed Vireo, Willow Flycatcher, Veery. Almost no warblers. Williams County 16/C 4 Cormorants, a Solitary Sandpiper.
5/11/5 Defiance County Sherwood My first-of-season House Wren is trying to move back in to his old house as I leave for work this morning. Twenty minutes at Oxbow Lake as the sun rises, walking the inside of BlueWinged Triangle results in just that: My first-of-season BlueWinged Warbler right where it always is every year. The only other new warbler is a Magnolia, but there are other things to make me very happy on a wonderful spring day: Great Crested Flycatchers and Indigo Buntings are new for the season, and Russian Olives are perfuming the air with their bloom. The Wild Plum, Cleavers, Golden Alexanders, and Birdsfoot Trefoil aren't bad either. Bend/Lockwood 3 Turkeys and a Coyote with mange. Rethmel/Evansport RedHeaded Woodpecker. Lockwood/Rosebrock Lone Turkey. Lockwood/Glenburg Bobolinks and Pheasants sing and crow, although I can't see either. Williams County Stryker Jail My second and third Great Crested Flycatchers are here, another Turkey at 20/C. 16/C Just bare minimum: a dozen Dunlin and scattered Pectoral/Semipalmated/Least/Solitary Sandpipers and a single Lesser Yellowlegs. Back to Defiance County Oxbow Lake after work, walking the paved areas only after a sudden downpour. Wonderful walk seeing FOUR White-Eyed Vireos (I usually feel blessed to even hear one around here, let alone actually see one; this is another first-of-year). 4 DoubleCrested Cormorants, 1 unusually light. A Swainson's Thrush, a dull female Cape May Warbler, an Orchard Oriole, Least Flycatcher, Yellow Billed Cuckoo are first of season for me. Another Cuckoo called from far away as I glassed this one. The Flycatcher was being pelted by Yellow Warblers for some odd reason. A large Dogwood tree I never realized was here was in full bloom! Gorgeous! Tailed-Blues (first of season) were everywhere, too.! Blooming Hop Tree, False Solomon's Seal everywhere, Bullfrogs, Painted and Slider Turtles also contributed to a great two hours. I found a second BlueWinged Warbler bee-buzzing where I 've never found them before here: beside the ranger station. BEST BIRD OF THE DAY: PILEATED WOODPECKER-- only the second I've seen in Defiance County!
5/10/5 Williams County 16/C Just two pairs of BlueWinged Teal, 10 Dunlin, a Solitary Sandpiper, and a Semipalmated Sandpiper this morning enroute to work. Goose 3E1K persists but without a family. Defiance County Independence Dam I hate having to work-- it gets in the way of birding big-time. After work, the alleged fall-out was way gone with the only new bird for the year being a Yellow-Throated Vireo. The frustration comes from the rest of the Black Swamp Audubon's trip to Crane Creek in Ottawa County. From OhioBirds@Envirolink: " This morning, the Black Swamp Audubon Society made its annual pilgrimage to the boardwalk at Magee Marsh, that Mecca of songbirding and overall birding camaraderie. Neither the weather nor the birds disappointed. The nine of us found 21 species of warblers, including 17 within about a 30 minute period right at the entrance to the boardwalk. As can happen in this magical place, we were able to just stand still and watch the birds fly through. Instead of the usual 2 or 3 Magnolias, we saw perhaps 10 or 15. Instead of straining to find a Parula, we were hearing them at every turn! And so it went. Our best birds were Black-billed Cuckoo, Philly Vireo, Hooded Warbler and a most obliging Prothonotary, who provided quite the show for dozens of folks this morning. Isn't it nice when the birds co-operate that way?"
5/9/5 Williams County 16/C Semipalmated Sandpipers (first of year for me), Least/Solitary Sandpipers, Lesser Yellowlegs, Killdeer, a pair of BlueWinged Teal, but mostly Dunlin (less than 30). Best birds: Pipits, about 2 dozen. SR576/C My first Great Egret of the year mingles with the Canada Geese and Killdeer. Defiance County Behnfeldt/Scott Cooper's Hawk Putnam County From OhioBirds@Envirolink: "Mother's day provided an opportunity to visit the family's CRP wetland (~4 acres), surrounding successional woods (~5 acres), associated oldfield and farmland...Killdeer, Lesser Yellowlegs, Spotted/Semipalmated/Pectoral Sandpiper, Black-bellied Plover, Baltimore Oriole, Warbling Vireo, Yellow/Yellow-rumped/Palm Warblers, Horned Lark, Savannah/Song/Chipping Sparrows, Cardinal, Tree/Rough-winged/Barn Swallows, Red winged Blackbird, Ruby-crowned Kinglet, Goldfinch, Robin, Grackle. This area is a couple of miles northeast of Leipsic, OH.--Ryan Schroeder, Dublin, OH" Paulding County Also from OhioBirds@Envirolink: "...As I was still sipping my wakeup glass of juice, Micki called me to inform that she was surrounded by warblers. Wonderful winged creatures were nearly falling out of the trees before her eyes. She had, I believe, 15 species on our property in the matter of about an hour, including a feisty, singing YELLOW-BREASTED CHAT who seemed determined to outsing the rest of the bird population by himself. Luckily, the fellow was obliging enough to wait for me to find my way to the woods a few hours later. No timid soul he, this Chat flew up to an exposed perch and proceeded to run through his insane repertoire for a good five minutes before returning to the safety of his cover. And to think that sometimes you never get even a glimpse of these fellows! In addition to some of the birds she had seen earlier, I found a lone PINE WARBLER, and Micki added another species later, bringing our total to 17 species of warblers for the day, with multiple sightings or hearings for several species. Add to that a nice mixture of vireos and a few very obliging thrushes, and you begin to believe that there is a big push afoot (awing?) in the bird world. All in all, not too shabby for one of those forgotten, birdless counties on the edge of nowhere! Bird long and prosper, Doug & Micki Dunakin Antwerp, O. (Somewhere just east of Indiana)"
5/8/5 Paulding County Black Swamp Audubon Sanctuary at Antwerp, late in the day about 5pm. Two Green Herons and an Eastern Kingbird were new for the year, TWO conspicuous SORAS were best birds, Yellowlegs, Solitary Sandpipers were there too. Also my first Pearl Crescent butterflies of the year. Warblers were few, and only BayBreasted was new. Chokecherry, Viburnum, Mayapples, Field Chickweed in bloom. Single Wild Turkey at 230/192.
5/7/5 Noble County IN Wolf Lake Chanced upon my first-of-year Bobolinks here, then arriving home found first-of-season RoseBreasted Grosbeak (male) at the feeders in Sherwood Defiance County. At Hicksville (Casebere-Miller/SR18) was an adult male Harrier, harrassed by blackbirds. Awakened in Sherwood to a calling first-of-season Wood Thrush.
5/6/5 Williams County 16/C A BLACK TERN among the usuals today! B50/C My first Baltimore Oriole of the season (Okay, I'm not getting out much lately) Lucas County Irwin Prairie The calling Swamp Sparrows, the Woodcocks, the Spring Peepers, Wood-Betony and my first Bat of the season at dusk were great, but almost forgotten with the presence of the YeLLow rAiL Van Wert County From OhioBirds@Envirolink: " Tonight we got a call from a local birding friend that some American golden plovers were in a farm field near her house today. Scurried over there about 7 PM located between 85-100 birds in a corn field that was being cultivated. Many males in full alt plumage - the first we have seen in VW...Other birds seen in past 2 days: Ruddy Duck, Cooper's Hawk, Greater Yellowlegs, Solitary, Least Sandpiper...YellowBellied Sapsucker...BlueGray Gnatcatcher, RubyCrowned Kinglet...Wood Thrush, BlueHeaded Vireo, BlackThroated Green, Nashville, Palm, Yellow, Yellow-rumped Warblers, WhiteCrowned and WhiteThroated Sparrows... A friend in Convoy, OH, just west of here also reports nesting Bluebirds and a large flight of Purple Martins 2 days ago. Our family of Great Horned Owls seems to have left the nest and moved on - last seen 3 days ago. Exciting spring for our "birdless" county, which is now up to 196 species (over eight years). Many more sunny days. Jean and John Perchalski, Van Wert, Ohio"
5/5/5 Williams County 16/C Few Dunlin, Pectorals, Lesser Yellowlegs, Killdeer, Mallards, but now 4 broods of Canada Geese... B50/C A Black-and-White Warbler sitting on a telephone wire! Paulding County Black Swamp Audubon Sanctuary at Antwerp Bob and Jo Ann Zabonick not only found a Sora here tonight, but photographed it!
5/4/5 Williams County Stryker Jail Solitary Sandpiper. A hen Wild Turkey crossing the road leaves an approaching driver boggled! SR576/B50 Pussytoes droop after the heavy frost. 16/C Down to a dozen each Dunlin and Pectoral Sandpipers. Still a Coot, the Ruddy drake, and two DoubleCrested Cormorants. Defiance County Independence Dam Quick drive shows just a Cormorant and Golden Ragwort.
5/3/5 Williams County 16/C Two SemiPalmated Plovers are today's highlight (first of season for me), with Dunlin, Pectoral and Least Sandpipers (about 2 dozen each), 2 Lesser Yellowlegs, 10 Greater Yellowlegs, an even dozen DoubleCrested Cormorants, 2 BlueWinged Teal, a pair of Wood Ducks, a Ruddy Duck drake, a few Mallards, Canada Geese and Killdeer and all six Swallows galore, including my first of season Bank Swallow. 576/C Lotsa Swallows, a few Canada Geese, and a Solitary Sandpiper.
5/2/5 Williams County Stryker Jail Parking Lot Pond This tiny pond held lots of Purple Martins and Barn Swallows, and a Solitary Sandpiper which allowed our golf cart close enough access to count the spots on its back. Denny S. had seen two Marsh Wrens here earlier in the day. 16/C 2 Dowitchers were the highlight, probably Short-Billed. The rain made it difficult scoping, but there were also 150+ other shorebirds, mostly Dunlin, Pectoral and Least Sandpipers. Also a PiedBilled Grebe, the first Killdeer chicks I've seen this year and a few Solitary Sandpipers and Lesser Yellowlegs. Defiance County Buckskin/Bend My first Hummingbird of the year, on my windshield <frown> Lockwood/Bend Wild Turkey tom. Carpenter/Stadium An unusual Grackle hanging with other Grackles in a front yard. Tried to casually videotape at dusk, without arousing anger in the homeowner. Notice how it has white puffy feathers on its head, kind of like a bald man with white hair:
5/1/5 Defiance County Sherwood feeders New visitor: Wild Turkey!