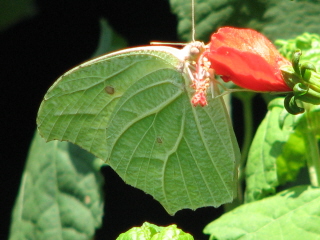 August 4 Bentsen Great birds today (Plain Chachalaca, Northern Bobwhite, Least Grebe, Pied-billed Grebe, Anhinga, Great Blue Heron, Great Egret, Green Heron, Turkey Vulture, Gray Hawk, Crested Caracara, Common Moorhen, American Coot, Eurasian Collared-Dove 1 (first I've seen in the park I think, on the wire at the tram stop), White-winged Dove, Mourning Dove, Inca Dove, Common Ground-Dove, White-tipped Dove, Yellow-billed Cuckoo, Greater Roadrunner, Groove-billed Ani, Eastern Screech-Owl, Lesser Nighthawk, Common Pauraque,Buff-bellied Hummingbird, Black-chinned Hummingbird, Golden-fronted Woodpecker, Ladder-backed Woodpecker, Northern Beardless-Tyrannulet, Brown-crested Flycatcher, Great Kiskadee, Couch's Kingbird, Scissor-tailed Flycatcher, White-eyed Vireo, Green Jay, Bank Swallow, Cave Swallow, Clay-colored Robin, Northern Mockingbird, Long-billed Thrasher, Curve-billed Thrasher 1 (right at the office door), Olive Sparrow, Northern Cardinal, Blue Grosbeak 1, Dickcissel, Red-winged Blackbird, Great-tailed Grackle, Bronzed Cowbird, Orchard Oriole, Hooded Oriole, Altamira Oriole, Lesser Goldfinch, House Sparrow) after what felt like a long absence from the park for the weekend, and the Butterfly Walk (1 Pipevine Swallowtail, 14 Giant Swallowtail, 1 Great Southern White, 1 WHITE-ANGLED SULPHUR, 17 Cloudless Sulphur, 24 Large Orange Sulphur , 52 Lyside Sulphur, 24 Little Yellow, 3 Gray Hairstreaks, 1 Mallow Scrub-Hairstreak, 2 Clytie Ministreak (one in my yard at home, too), 2 Western Pygmy-Blue, 33 Ceraunus Blues, 1 Reakirt's Blue, 72 American Snout, 6 Gulf Fritillary, 1 Zebra Heliconian, 1 Mexican Fritillary, 41 Bordered Patches, 28 Phaon Crescents, 2 White Peacocks, 1 Common Mestra, 1 Tropical Leafwing, 1 Hackberry Emperor, 2 Tawny Emperor, 1 SILVER EMPEROR (bright male), 4 Queens, 2 Brown Banded Skippers, 8 Laviana White-Skippers, 1 Turk's Cap White-Skipper, 2 Southern Skipperlings, 2 Fiery Skippers, 15 Celia's Roadside-Skippers, 1 Eufala Skipper. Interrupted walk—only around HQ buildings minus the tram stop/Resaca square, nor the sidewalks.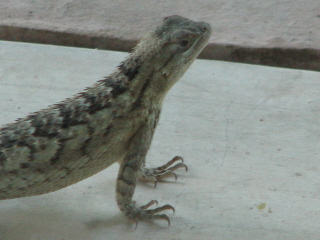 August 5 Bentsen Today was a busy but fun day the highlights being a visit by Martin Reid from San Antonio, and a lizard expert. He couldn't find a single Six-Lined Racerunner at all, and found lots of Laredo and Texas Spotted Whiptails, which is exactly my experience. These are parthenogenic lizards (ie all are female clones, exactly alike, that have no males and no need for males to reproduce). He is so specialized in his studies, that he didn't care at all about the Blue or Texas Spiny Lizards at the park, including this Texas Spiny just outside my office window.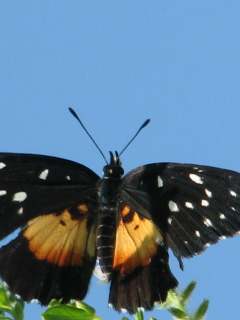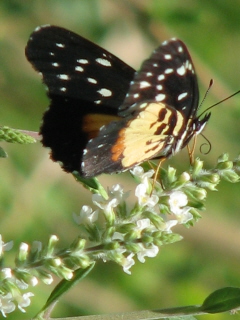 August 6 Bentsen I had three expert butterfliers on my Butterfly Walk today, and excellent butterflies showed up for them! The best by far were the two ROSITA PATCHES, the first I have ever seen! The other butterflies were good, but way overshadowed by this goodness (17 Giant Swallowtail, 1 Great Southern White, 1 WHITE-ANGLED SULPHUR, 45 Cloudless Sulphur, 28 Large Orange Sulphur , 52 Lyside Sulphur, 1 Southern Dogface, 8 Little Yellow, 5 Gray Hairstreaks, 2 Lantana Scrub-Hairstreak, 1 Mallow Scrub-Hairstreak, 3 Clytie Ministreak (one in my yard at home, too), 3 Western Pygmy-Blue, 13 Ceraunus Blues, 1 Reakirt's Blue, 1 Fatal Metalmark, 1 RedBordered Metalmark, 267 American Snout, 7 Gulf Fritillary, 1 Zebra Heliconian, 2 Mexican Fritillary, 25 Bordered Patches, 1 Vesta Crescent, 33 Phaon Crescents, 2 Elada Checkerspots, 2 White Peacocks, 3 Common Mestra, 10 Tropical Leafwing, 1 Hackberry Emperor, 2 Empress Leilia, 3 Tawny Emperor, 24 Queens, 2 Soldiers, 2 Brown Longtails, 4 Brown Banded Skippers, 7 Laviana White-Skippers, 1 Turk's Cap White-Skipper, 2 WhitePatched Skippers, 2 Common Sootywings, 2 Fiery Skippers, 3 Whirlabouts, 3 Southern Skipperlings, 3 Clouded Skippers, 38 Celia's Roadside-Skippers, 3 Eufala Skippers.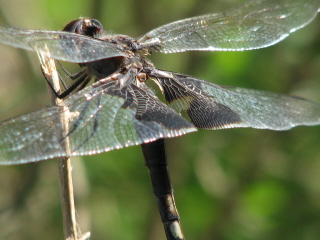 August 7 Bentsen Today's Dragonfly Walk was attended by several including a nice lady with two smart little (second grade at most, and probably not even first grade) kids. We had a great if short time (only an hour as kids have short attention spans) and still saw some great dragonflies: BlueRinged Dancer, FiveStriped Leaftail, Ringed Forceptail, Four-spotted Pennant, Tawny Pennant, Black Setwing, Eastern Pondhawk, Roseate Skimmer, Blue Dasher, Wandering Glider, Black Saddlebags, Red Saddlebags.
Aug 9 A BRAZILIAN SKIPPER showed up in my Harlingen yard!
Aug 10 Bentsen highlight was at the hawktower-- two Cooper's Hawks, evidently way too early since I was flagged by E-bird...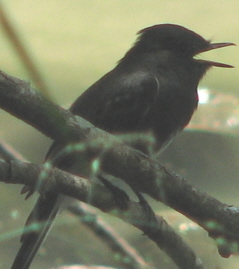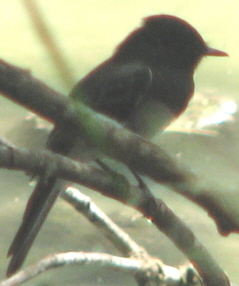 August 11 For lunch I went to Anzalduas County Pk (LTC 068) on a nice hot 100-degree day, a simple hal-hour drive around the outside perimeter of the picnic side. One Fox Squirrel, Green Heron 1, Laughing Gull 1, White-winged Dove 1, Ringed Kingfisher 1 (usually I see Green), Ladder-backed Woodpecker 4, Black Phoebe 2, Couch's Kingbird 3, House Sparrow 2. On the way back to the park I stopped off at Rio Grande State Veterans Cemetery Pond Black-bellied Whistling-Duck 5, Great Egret 1, Tricolored Heron 1. Enroute home after work, I stopped off Military Road for a few minutes at a nearly-deserted Picnic Area called UTC 53 TXDot Relampago (1 YellowBilled Cuckoo, 2 Common Nighthawks, 10 RedWinged Blackbirds, 12 GreatTailed Grackles) and El Zacatal (Neotropic Cormorant 17, Great Egret 17, Harris's Hawk 1, American Coot 3, Long-billed Curlew 2, White-winged Dove 7, Ringed Kingfisher 1, Red-winged Blackbird 11). El Zacatal is being totally razed, with bulldozers pushing over trees and filling in the marsh with tons of dirt. While I've seen thousands of birds here in the past, I think that era is over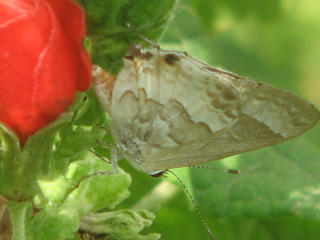 August 13 Bentsen Josh's list from Tex-Lep list for today's butterfly walk were: Giant Swallowtail Papilio cresphontes 17, Yellow Angled-Sulphur 1 (found by Tom!), Cloudless Sulphur 11, Large Orange Sulphur 25, Lyside Sulphur 22, Little Yellow 9, Gray Hairstreak 18, White Scrub-Hairstreak found by Mary Beth, Lantana Scrub-Hairstreak 1, Western Pygmy-Blue 20, Ceraunus Blue 3, Fatal Metalmark 1, American Snout 1000, Gulf Fritillary 19, Zebra Heliconian 2 , Variegated Fritillary 1, Bordered Patch 23, Crimson Patch 2, Rosita Patch 4, Vesta Crescent 7, Phaon Crescent 13, White Peacock 1, Malachite 1, Common Mestra 10, Tropical Leafwing 3, Hackberry Emperor 1, Tawny Emperor 1, Queen 23, Soldier 1, Brown Longtail 3, Sickle-winged Skipper 1, Brown-banded Skipper Timochares ruptifasciatus 2, White-patched Skipper Chiomara asychis 6, Laviana White-Skipper Heliopetes laviana 2, Fawn-spotted Skipper Cymaenes odilia 1, Clouded Skipper Lerema accius 5, Southern Skipperling Copaeodes minimus 2, Fiery Skipper Hylephila phyleus 1, Celia's Roadside-Skipper Amblyscirtes celia 12, Eufala Skipper Lerodea eufala 2. Josh later found a ruddy daggerwing, but I was working in the store already so missed it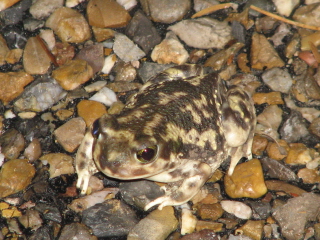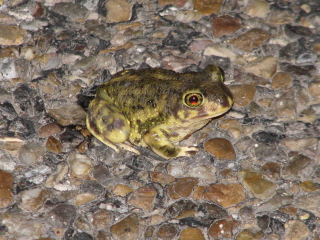 August 14 Bentsen After the night program we found lots of COUCH's SPADEFOOTS on the roads, plus the usual 10 or so Pauraque, half-dozen Screech Owls, and three Lesser Nighthawks.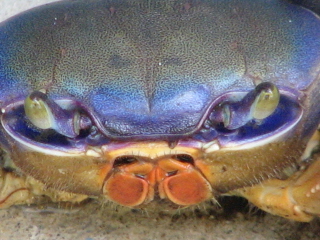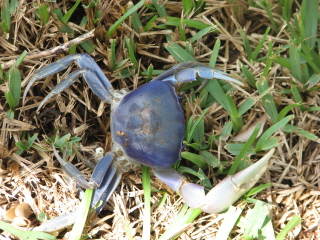 August 16 A Black Witch at home in Harlingen, and Blue Crabs at South Padre Island.
August 18 I went to Tiocano Lake but I was awestruck to see that the roads and houses were still flooded with water, right up to the doorsteps of the houses [front page story of the Harlingen Valley Morning Star on Thursday the 21st]. This is just a bit outside of Harlingen! There were plenty of Great Egrets, Snowy Egrets, Cattle Egrets, Tricolored Herons, Little Blue Herons, Great Blue Herons, three Black-Shouldered Kites, two Black-Necked Stilts and a Killdeer in the area, but we could see almost nothing of the lake itself.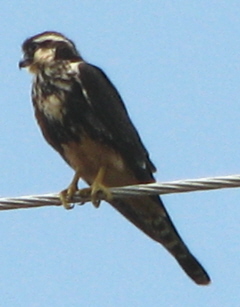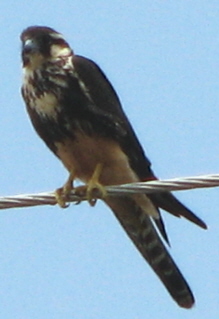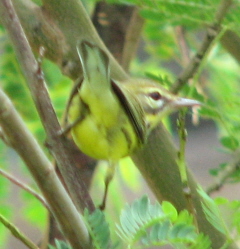 August 20 It was a beautiful sunny morning in Harlingen so I left for South Padre Island-- where it was storming so hard that the streets flooded so one had to drive the middle lanes!!! I loved it. The birds are truly amazing. Brown Pelican 45, Great Blue Heron 4, Great Egret 3, Snowy Egret 5, Little Blue Heron 1, Tricolored Heron 4, Reddish Egret 2, Roseate Spoonbill 5, Aplomado Falcon 1 (ON the Island?!), Clapper Rail 2 (the boardwalk was closed but these called off the causeway), Black-bellied Plover 3, Snowy Plover 1, Wilson's Plover 3, Semipalmated Plover 3, Piping Plover 14, Killdeer 1, American Oystercatcher 1, Greater Yellowlegs 3, Willet 13, Marbled Godwit 7, Ruddy Turnstone 1, Stilt Sandpiper 2, Short-billed Dowitcher 3, Laughing Gull 640, Ring-billed Gull 1, Least Tern 41, Gull-billed Tern 2,Caspian Tern 2, Forster's Tern 2, Royal Tern 66, Black Skimmer 4, Rock Pigeon 11, Eurasian Collared-Dove 1, Mourning Dove 4, Yellow-billed Cuckoo 1, Common Nighthawk 14, Eastern Kingbird 1, Purple Martin 6, Barn Swallow 50, Northern Mockingbird 3, Yellow Warbler (Northern) 2, Prairie Warbler 1, Great-tailed Grackle 70, Orchard Oriole 1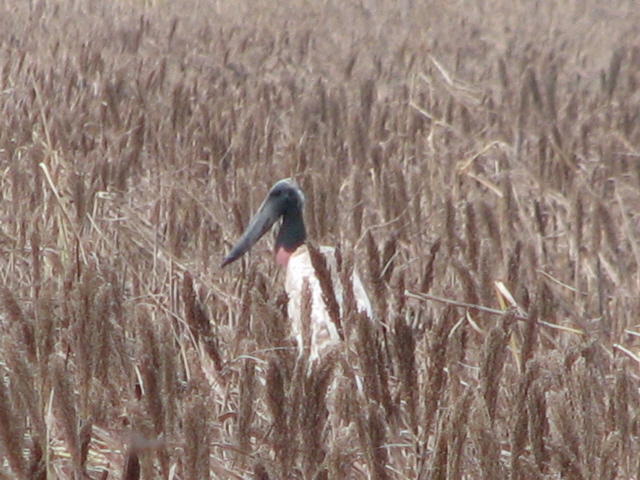 August 21 Raymondville Willacy County. JABiRU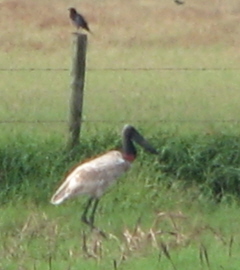 There was a Jabiru the first week of August in Louisiana for the very first time, about 100 miles from New Orleans. Last year about 200 miles northeast of this Louisiana spot, one was seen in Isola, Mississippi, also a first for that state. One was seen in Oklahoma before, so that's three records for the US. And there were eight (the third 10/29/79 in Brooks Co, the sixth on 8/11/1997 at Laguna Atascosa) other records for Texas, so that's 11, making this the twelfth record for the United States. Could some of these be the same bird? I don't know. It was a great day today though, for sure! Near this Jabiru was a field full of birds, at the corner of 1425 and 490. At the next mile west on 490 was another field full of birds, but I didn't count them because I didn't want to disturb the Jabiru which had flown there by the end of my visit. THIS WAS A LEVEL FIVE BIRD, according to the ABA, meaning the only birds more rare (ie Level Six) are extinct!
This just in from Texbirds: "I agree with Nancy- this TX bird is certainly NOT the same individual that was in LA. The LA bird was immaculate white, had brighter soft parts colors, and a longer bill. Furthermore, it's nowhere near 100% certain that the two LA sightings (27 July in St. Mary Parish and 31 July in Iberville Parish) involved the same bird, although those two observations were only about 35 miles apart and the birds look much more similar to "each other." Cheers, Steve Cardiff" Black-bellied Whistling-Duck 6, Great Egret X, Snowy Egret 50, Tricolored Heron 2,Cattle Egret 100, White Ibis 1, White-faced Ibis 200, Jabiru 1, Black-necked Stilt 375, Greater Yellowlegs X, Willet 1, Lesser Yellowlegs X, Stilt Sandpiper X, Wilson's Phalarope 100,Rock Pigeon 2, Mourning Dove 7, Barn Swallow 6, Red-winged Blackbird 10, Great-tailed Grackles, House Sparrow 6
August 22 First stop was Hugh Ramsey Park here in Harlingen. Sunny morning at the start, rumbling thunder and sprinkling by the end: Plain Chachalaca 1, Harris's Hawk 2, Swainson's Hawk 2, Killdeer 1, Laughing Gull 1, White-winged Dove 53, Mourning Dove 9, Inca Dove 16, Common Ground-Dove 2, White-tipped Dove 2, Common Nighthawk 2, Buff-bellied Hummingbird 5, Golden-fronted Woodpecker 15, Great Kiskadee 6, Couch's Kingbird 3, Green Jay 5, Purple Martin 5, Verdin 3, Bewick's Wren 2, Northern Mockingbird 7, Long-billed Thrasher 2, Curve-billed Thrasher 16, Olive Sparrow 12, Northern Cardinal 1, Pyrrhuloxia 1, Red-winged Blackbird 130, Great-tailed Grackles 5, Lesser Goldfinch 7, House Sparrow 25.
I had time for another stop, Harlingen's Pendleton Park: Mottled Duck 1, Laughing Gull 20, Rock Pigeon 28, Mourning Dove 4, Inca Dove 2, Chimney Swift 4, Golden-fronted Woodpecker 3, Great Kiskadee 1, Couch's Kingbird 2, Purple Martin 12, Northern Mockingbird 3, European Starling 26, Yellow Warblers 2, Great-tailed Grackle 38, Bronzed Cowbird 350 (maybe more!), House Sparrow 13.
Still time for Harlingen's City Lake, but I could've skipped it: Black-bellied Whistling-Duck 66, Laughing Gull 42.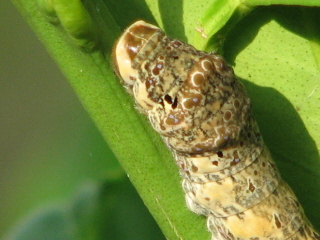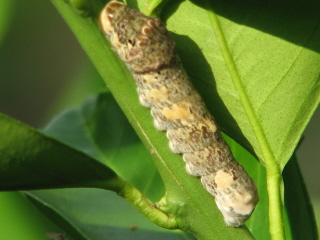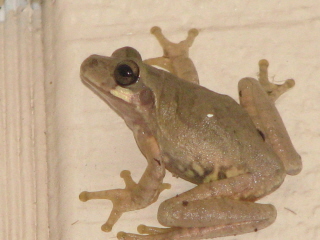 August 23 Home in Harlingen I found THREE Great Swallowtail caterpillars on our orange trees eating at nigh, a salamandar or skink ran from under the pool edging, and an odd treefrog that may be the rare Mexican treefrog (see the white spot under his eye?) under our porch light. All are FIRSTS.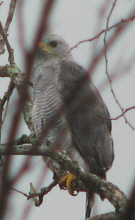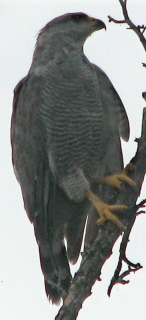 August 24 Casual Bentsen bird look, while checking water features. Cloudy dark almost-rainy day: Mallard (Mexican) 6, Mottled Duck 2, Plain Chachalaca 27, Northern Bobwhite 2, Least Grebe 1, Pied-billed Grebe 11, Anhinga 2, Great Egret 2, Little Blue Heron 1, Green Heron 3, Turkey Vulture 1, Gray Hawk 4 (all adults-- same one? all were sitting calmly both before and after pictures), Common Moorhen 5, American Coot 22, White-winged Dove 58, Mourning Dove 6, Inca Dove 2,Common Ground-Dove 4, White-tipped Dove 9, Yellow-billed Cuckoo 5, Groove-billed Ani 10, Eastern Screech-Owl 1, Common Nighthawk 1, Chimney Swift 1, Buff-bellied Hummingbird 6, Black-chinned Hummingbird 1, Golden-fronted Woodpecker 20, Ladder-backed Woodpecker 2, Northern Beardless-Tyrannulet 1, Empidonax sp. 2, Brown-crested Flycatcher 1, Great Kiskadee 9, Couch's Kingbird 3, Green Jay 8, Cave Swallow X, Clay-colored Robin 1, Northern Mockingbird 2, Olive Sparrow 7, Lark Sparrow 1, Northern Cardinal 10, Red-winged Blackbird 16, GreatTailed Grackles 33, Bronzed Cowbird 2, Altamira Oriole 2, Lesser Goldfinch 1, House Sparrow 40. Butterflies were very good with four Mexican Bluewings, three Ornythians, a Malachite, a Great Purple Hairstreak and lots of Tropical Leafwings. Lunch at NABA's highlight were lots of Bordered Patch caterpillars. When I got back to Bentsen, I checked our sunflowers-- and found lots of them in our reveg fields.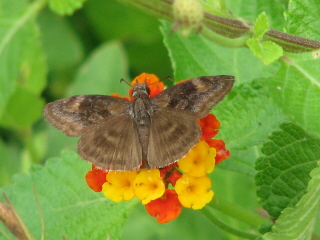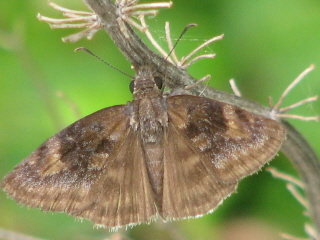 August 25 Bentsen Our guest (who had seen the butterfly before in Mexico) identified a FALSE DUSKYWING for all of us who had never ever seen one before! It was truly exhilirating! Kind of a cross between a BrownBanded Skipper and a Funereal Duskywing, eh? Very cool! And the only place it enters the US is in South Texas. The last time it was seen was 2004! Almost all day was spent outside with butterflies where we narrowly missed another day of rain. Turns out, all the rest of the valley got deluged.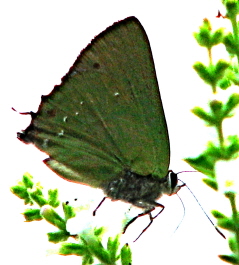 August 27 Bentsen The Butterfly Walk found three very interesting species: CLENCH'S GREENSTREAK-- a very beautiful, hard-to-find (it's green among green leaves, and pretty small) creature that I've only seen once before, GLAZED PELLICIA-- not beautiful but highly unusual, THEONA CHECKERSPOT (haven't seen any for nearly a year, since the sage was cut). Plus there were the nice species like a Malachite, a couple Mexican Bluewings, a Giant White, Pale-Banded Crescent. For lunch I went to NABA to find the reported Blomfild's Beauty, but no luck.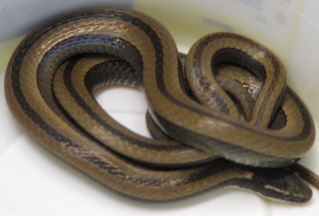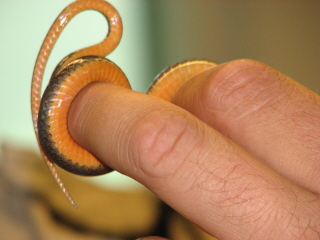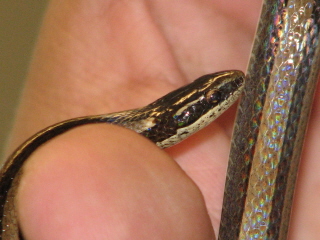 August 28 Bentsen State Park It was only 7:20am when I arrived at work, so I checked out the nearby Mission pond on Shary Road near Denny's and Home Depot: Black-bellied Whistling-Duck 2, Green Heron 1, Harris's Hawk 1, Rock Pigeon 1, White-winged Dove 3, Mourning Dove 3, Inca Dove 3, Yellow-billed Cuckoo 1, Chimney Swift 18, Ringed Kingfisher 2, Golden-fronted Woodpecker 1, Great Kiskadee 1, Couch's Kingbird 1, Purple Martin 8, Barn Swallow 20, Cactus Wren 3, Northern Mockingbird 2, Curve-billed Thrasher 2, European Starling 5, Great-tailed Grackle 9, Lesser Goldfinch 3, House Sparrow 30.
The day at Bentsen started right with Jose bringing in a snake I have never seen before-- a BLACK-STRIPED SNAKE! "...Its small size and calm temperament mean that it is unlikely to bite a human being—in whom its saliva has produced severe local inflammations but no lasting effects. Bryce C. Brown (1939), who as a young man allowed a black-striped snake to bite him on the hand as an experiment, reported that the sharp initial pain was similar to a bee sting but lasted much longer. Withn an hour the discomfort had reached his elbow and his slightly swollen hand had grown temporarily numb, a condition that remained for several days, though Brown eventually recovered and went on to pursue a successful career in herpetology at Baylor University …THREATENED. PROTECTED BY THE STATE OF TEXAS…known in the United Statees only from Cameron , Hidalgo and Willacy counties…Today, because elimination of the Rio Grande Valley 's native thorn woodland by agricultural and residential clearing has devastated much of the area's wildlife, black-striped snakes are seldom encountered…"
Today's Dragonfly Walk was amazing, with 10 people from Edinburg's World Birding Center as our guest, as well as two others from the area. All 15 of us fit in the van as we explored and found great bugs: "The first sighting may also have been the best. As the group gathered outside the visitor center, a pair of Ringed Forceptails, in the wheel, flew in and perched on a large Crucita clump, and stayed there for quite a while!...9 damselfly species, 20 dragons, for 29 odonates total. The list: Coral-fronted Threadtail (Neoneura aaroni) - probably 2-3 males around, the bridge, Amelia's Threadtail (N. amelia) - two pairs ovipositing, and 2+ other, males, on canal, Blue-ringed Dancer (Argia sedula) - 1 male, the only damsel on the pond;, also canal, Dusky Dancer (A. translata) - at least 4 males on the canal, Double-striped Bluet (Enallagma basidens) pair of these ovipositing on the canal, Familiar Bluet (E. civile) - at least 2 pairs ovipositing, a few other males, on canal, Neotropical Bluet (E. novahispaniae) - 1 pair ovipositing, plus other males, canal, Rambur's Forktail (Ischnura ramburii) - a few around the boat ramp, Caribbean Yellowface (Neoerythromma cultellatum) - 1 pair plus 4 other, males at boat ramp, Common Green Darner (Anax junius) - 1 male patrolling over garden pond, Flag-tailed Spinyleg (Dromogomphus spoliatus) - 1 male perched near bridge, Ringed Forceptail (Phyllocycla breviphylla) - pair in the wheel by, visitor center, Five-striped Leaftail (Phyllogomphoides albrighti) - 2-3 males on the, canal, Red-tailed Pennant (Brachymesia furcata) - several at boat ramp, 1 on, canal, Four-spotted Pennant (B. gravida) - a few at boat ramp, 1 on canal, Tawny Pennant (B. herbida) - 1 male near boat ramp, Halloween Pennant (Celithemis eponina) - 1 male at the pond, 1-2 more near boat ramp, Black Setwing (Dythemis nigrescens) - males at all 3 sites, Eastern Pondhawk (Erythemis simplicicollis) - 1 male, 1 ovipositing, female at boat ramp, Band-winged Dragonlet (Erythrodiplax umbrata) - 1 male on canal, Spot-tailed Dasher (Micrathyria aequalis) - 1 male at boat ramp, Thornbush Dasher (M. hagenii) - 1 male on garden pond, another at boat, ramp, Roseate Skimmer (Orthemis ferruginea) - male and female on pond, others, at boat ramp, Blue Dasher (Pachydiplax longipennis) - 1 male at the garden pond, Wandering Glider (Pantala flavescens) - lots, all over, Spot-winged Glider (P. hymenea) - ditto, Eastern Amberwing (Perithemis tenera) - 1 male on canal, 1 female in grass nearby, Black Saddlebags (Tramea lacerata) - tandem pair at boat ramp, Red Saddlebags (T. onusta) - a few scattered all over."--Josh on TexOdes. I also liked the LONG-JAWED ORBWEAVER and the ShortWinged Katydid (Dichopetala).
August 29 Harlingen Walmart about 1500 Purple Martins and 21 Black Bellied Whistling-ducks flew over!
Bentsen State Park Sightings for the month of Aug 2008 last update 8/24 1:00pm **area specialties
Mexican Duck—John 8/24
Mottled Duck—John 8/24
**Plain Chachalaca—John 8/4
Northern Bobwhite—John 8/4
Least Grebe—John 8/4
Pied-Billed Grebe—John 8/4
Anhinga—John 8/4
Great Blue Heron—John 8/4
Great Egret—John 8/4
Little Blue Heron—Birdwalk 8/10
Green Heron—John 8/4
10 Yellow-Crowned Night-Heron—Birdwalk 8/10
Turkey Vulture—John 8/4
Cooper's Hawk—Birdwalk 8/10
**Gray Hawk—John 8/4
**Crested Caracara—Anon 8/4
American Coot—John 8/4
SANDHILL CRANE—Anon 8/9
Killdeer—Mary Beth Stowe 8/21
UPLAND SANDPIPER—Mary Beth Stowe 8/21
White-Winged Dove—John 8/4
20 EURASIAN COLLARED-DOVE—Jose/Tom/John 8/7
Mourning Dove—John 8/4
Inca Dove—John 8/4
Common Ground-Dove—John 8/4
**White-Tipped Dove—John 8/4
Yellow-Billed Cuckoo—John 8/4
Greater Roadrunner—John 8/4
**Groove-Billed Ani—John 8/4
Eastern Screech-Owl—John 8/4
Lesser Nighthawk—John 8/4
Common Nighthawk—John 8/24
30 **Common Pauraque—Night Hike 8/1
**Buff-Bellied Hummingbird—John 8/4
Black-Chinned Hummingbird—John 8/4
**Ringed Kingfisher—Mary Beth Stowe 8/21
**Golden-Fronted Woodpecker—John 8/4
Ladder-Backed Woodpecker—John 8/4
**Northern Beardless-Tyrannulet—Jerry/John 8/3
Brown-Crested Flycatcher—John 8/4
**Great Kiskadee—John 8/4
**Couch's Kingbird—John 8/4
40 Scissor-Tailed Flycatcher—John 8/4
White-Eyed Vireo—John 8/4
**Green Jay—John 8/4
Bank Swallow—John 8/4
Cliff Swallow—Mary Beth Stowe 8/21
Cave Swallow—John 8/4
Barn Swallow—Mary Beth Stowe 8/21
Black-Crested Titmouse—Mary Beth Stowe 8/21
Verdin—Mary Beth Stowe 8/21
BLUE-GRAY GNATCATCHER —Mary Beth Stowe 8/21
50 **Clay-Colored Robin—John 8/4
Northern Mockingbird—John 8/4
**Long-Billed Thrasher—John 8/4
Curve-Billed Thrasher—Jerry/John 8/4
**Olive Sparrow—John 8/4
Lark Sparrow—Mary Beth Stowe 8/21
Northern Cardinal—John 8/4
Blue Grosbeak—John 8/4
PAINTED BUNTING—Mary Beth Stowe 8/21
Dickcissel—John 8/4
60 Red-Winged Blackbird—John 8/4
Great-Tailed Grackle—John 8/4
Bronzed Cowbird—John 8/4
Orchard Oriole—John 8/4
Hooded Oriole—John 8/4
**Altamira Oriole—John 8/4
Lesser Goldfinch—John 8/4
House Sparrow—John 8/4
Reptiles/Amphibians
Blue Spiny Lizard—Jerry/John 8/4
Cane Toad—John 8/4
Gulf Coast Toad—Night Hike 8/1
Laredo Spotted Whiptail—Cordes 8/5
Mediterranean Gecko—Jose 8/13
PATCH-NOSED SNAKE—Josh 8/12
Rio Grande Chirping Frog—Jennifer 8/4
SOUTH TEXAS BLIND SNAKE—Jose Night Hike 8/22
Texas Spiny Lizard—John 8/4
Texas Spotted Whiptail—John 8/4
Texas Tortoise—John 8/4
Butterflies
Pipevine Swallowtail—John 8/4
Giant Swallowtail—John 8/4
Ornythian Swallowtail—8/22 Josh
BROAD-BANDED SWALLOWTAIL—8/22 Josh
Great Southern White—John 8/4
Giant White—Martin Reid 8/6
WHITE ANGLED-SULPHUR—John 8/4
YELLOW-ANGLED SULPHUR—TOM PENDLETON 8/13
Cloudless Sulphur—John 8/4
10 Large Orange Sulphur—John 8/4
Lyside Sulphur—John 8/4
Southern Dogface—Mary Beth Stowe 8/21
Little Yellow—John 8/4
Gray Hairstreak—John 8/4
Mallow Scrub-Hairstreak—John 8/4
Lantana Scrub-Hairstreak—Butterfly Walk 8//13
WHITE SCRUB-HAIRSTREAK—Mary Beth 8/13
CLENCH'S GREENSTREAK—Mike Rickard 8/21
Clytie Ministreak—John 8/4
20 MARINE BLUE—Butterfly Walk 8/20
CASSIUS BLUE—Josh Rose 8/14
Western Pygmy-Blue—John 8/4
Ceraunus Blue—John 8/4
Reakirt's Blue—John 8/4
Fatal Metalmark—Butterfly Walk 8//13
American Snout—John 8/4
Gulf Fritillary—John 8/4
ZEBRA HELICONIAN—John 8/3
VARIEGATED FRITILLARY—Butterfly Walk 8/13
30 Mexican Fritillary—John 8/3
Bordered Patch—John 8/4
Crimson Patch—John 8/12
2 ROSITA PATCHES--Mike Rickard 8/6
Vesta Crescemt--—Butterfly Walk 8/6
Phaon Crescent—John 8/4
White Peacock—John 8/4
MALACHITE—Butterfly Walk 8/13
Common Mestra—John 8/4
MEXICAN BLUEWING—Jesus Franco 8/20
40 GRAY CRACKER—Charlie Gifford 8/9
RUDDY DAGGERWING—Tom Pendleton 8/12
Tropical Leafwing—John 8/4
Hackberry Emperor—John 8/4
Empress Leilia—Mary Beth Stowe 8/21
Tawny Emperor—John 8/4
Silver Emperor—John 8/4
Queen—John 8/4
Soldier—John 8/4
Brown Longtail—Butterfly Walk 8/13
50 Zilpa Longtail—Mary Beth Stowe 8/21
Sickle-Winged Skipper—Butterfly Walk 8/13
Brown-Banded Skipper—John 8/4
White-Patched Skipper—Martin Reid 8/6
Sickle-Winged Skipper—Martin Reid 8/5
White Checkered-Skipper—John 8/4
Laviana White-Skipper—John 8/4
Turk's Cap White-Skipper—John 8/4
Fawn-Spotted Skipper—Butterfly Walk 8//13
NYSA ROADSIDE-SKIPPER—Martin Reid 8/6
60 Celia's Roadside-Skipper—John 8/4
Eufala Skipper—John 8/4
Clouded Skipper—John 8/4
Southern Skipperling—John 8/4
Fiery Skipper—John 8/4
Mammals
Bat—Perseid Party 8/12
Collared Peccary—John 8/4
Eastern Cottontail—John 8/4
Mexican Ground Squirrel—John 8/4
Nine-Banded Armadillo—Perseid Party 8/12
Northern Raccoon—Perseid Party 8/12
Dragonflies
Blue-Ringed Dancer—Dragonfly Walk 8/7
Five-Striped Leaftail—Dragonfly Walk 8/7
Ringed Forceptail—Dragonfly Walk 8/7
Four-Spotted Pennant—Dragonfly Walk 8/7
Tawny Pennant—Dragonfly Walk 8/7
Black Setwing—Dragonfly Walk 8/7
Eastern Pondhawk—Dragonfly Walk 8/7
Roseate Skimmer—Dragonfly Walk 8/7
Blue Dasher—Dragonfly Walk 8/7
Wandering Glider—Dragonfly Walk 8/7
Black Saddlebags—Dragonfly Walk 8/7
Red Saddlebags—Dragonfly Walk 8/7
Other Insects/Invertebrates
Ant Lion—John 8/4
Beaded Lacewing
                                    (Lomamyia sp.)—Perseid Party 8/12
Black-bordered
                                    Lemon, Thioptera nigrofimbria? Perseid Party 8/12
Black Witch—John 8/4
Carolina Sphinx (Manduca sexta)—Perseid Party 8/12
Chloraspilates bicolor—Perseid Party 8/12
Chlorochlamys phylinaria—Dauphins/Josh 8/14
Conchylodes salamisalis—Josh 8/20
Cicada Gigas—John 8/4
Cuckoo Wasp—John 8/3
Desert Termites—John 8/4
Ello Sphinx (E. ello)—Perseid Party 8/12
False Potato Beetle—Josh 8/13
Harvester Ants—John 8/4
Mexican Unicorn Mantis (Phyllovates chlorophaea)—Perseid Party 8/12
Obscure Sphinx (Erynnyis obscura—Perseid Party 8/12
OWL MOTH—Josh 8/20
Southern Pink Moth (Pyrausta inornatalis)—Josh 8/20 (pink Crambid moth)
Satellite Sphinx (Eumorpha satellita)—Josh 8/20
SAUCY BEAUTY—Martin Reid 8/7
Snail—John 8/7
Spragueia guttata - Spotted Spragueia—Josh 8/14
Tarantula Hawk—John 8/7
Tortoise Beetles & Larvae—John 8/7
Vine Sphinx—John 8/4
White-tipped Black
                                    Moth(Melanchroia chephise)
Zale lunata moth?—Perseid Party 8/12