Birdingmostly in Northwest Ohio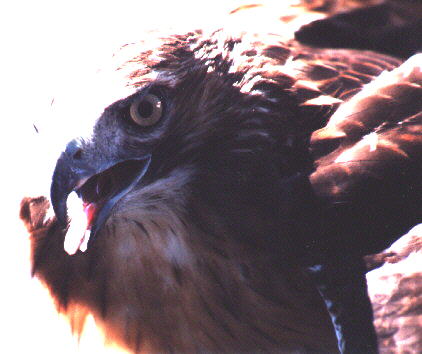 RedTailed Hawk
This is mostly a diary of my birding adventures:
or click on one of the following topics
Poisoning Birds
Trapping Owls in Northwest Ohio
Reporting a Banded Bird in Ohio
Shooting Raptors in Ohio
Bald Eagles in Ohio
Ohio License Plates
Trumpeter Swans (I don't understand this story at all...)
Whooping Cranes Shot!
My Personal Lifelist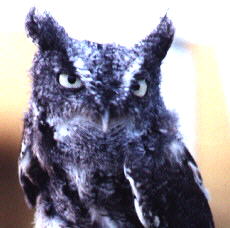 Screech Owl
A minimum of 67 million birds killed by pesticides on farmland alone. http://www.abcbirds.org/pesticides/pesticideindex.htm
Towers have killed 230 species, far more than West Nile Virus. http://www.abcbirds.org/policy/towerkillweb.pdf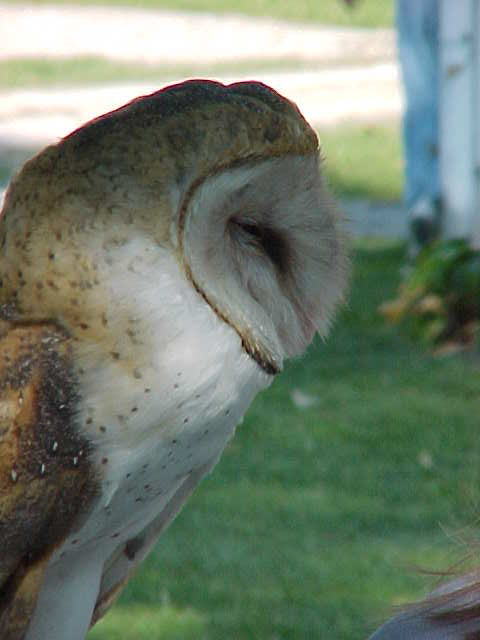 Barn Owl
A LITTLE OHIO HISTORY
Large carnivores were among the first to go. They were aggressively sought out and killed. They not only competed with the settlers for wild animals but they posed a threat to him, his family, and livestock. Mass hunts were organized in which hunters and dogs would line up surrounding a section of forest and work their way inward shooting every living thing. The last wild cats and wolves in the state were killed not long after 1830. The last bear was taken in 1881. Animals of economic value or whose existence impinged on the settler's economic well-being went next. By 1830, the beaver in Ohio was gone. Trappers took it for its fur. Farmers killed it to keep it from building dams that flooded roads and cropland. The mink soon joined it, also trapped for its fur. The weasel was poisoned and trapped for its attacks on poultry. Eagles, hawks, and foxes were extirpated to protect henhouses. Then the game species were hunted until there were no more. The while-tailed deer was rare in Ohio by the 1880s and extinct in the wild by 1905. The wild turkey was also hunted to till it was gone. It disappeared from the wild in 1904. The passenger pigeon (Ectopistes migratorius), a bird of legendary abundance, thought to number in the billions, was nearly gone by the end of the 19th Century. The last known wild passenger pigeon was shot in 1904 in Pike County, Ohio. The very last passenger pigeon died in the Cincinnati Zoo in 1914. Meanwhile, massive forest clearance was underway--destroying the homes and food supplies of wildlife. Ninety percent of Ohio's 1800 forest was gone by 1900. Less one acre in ten in the state was still wooded. Agriculture, industry, and settlement polluted streams, creeks, and rivers, damaging the habitats of fish and other aquatic life. Hollows, creeks, and streams became favored dumping grounds for trash, debris, and even sewage, further degrading the environment. The animal life that survived did so because it was small, unobtrusive, and found a way to live alongside man in disturbed and essentially forestless habitats. Mostly, these were rodents, some songbirds, a few reptiles, a few amphibians, and some fish.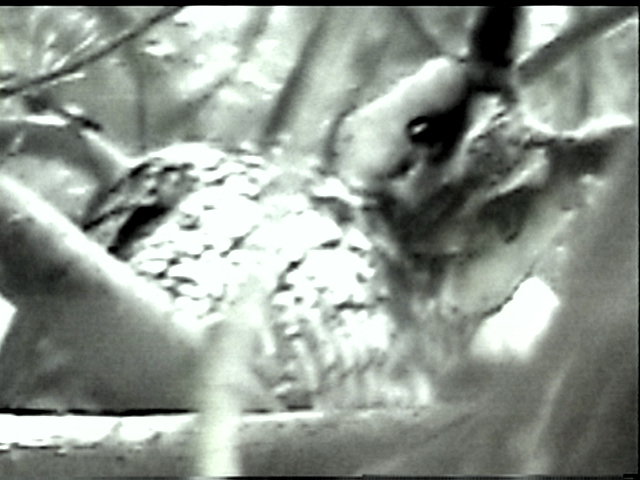 Long-Eared Owl at Killdeer Plains
Pronunciation
Traveling in birding groups more than I ever have before has exposed me to so many different pronunciations of some bird names that I have often gone running to the dictionary once I got home to see what the real pronunciation should be. It really doesn't matter, since a rose by any name smells so sweet, but just for fun click on the way you think a bird should be pronounced :) :
Pileated-- is it Pill-eated or Pile-eated?
Jaeger-- is it Jay-ger or Yay-ger?
Phalarope-- Fale-arope or Fal-arope or Fall-arope?
Parula-- Par'-ya-la or Pare'-ya-la or Par-oo'-la?
Pectoral-- is it Pek'-ter-el or Pek-tore'-el?
Merganser-- Mer-gan'-ser or Mer'-gen-ser?
Gyrfalcon--Jur-falcon or Jeer-falcon or Gear-falcon?
Plover-- is it Pluv-er or Ploe-ver?
Nothing
(well, not much)
To Do with Ohio
NEWSWEEK ­ Issue March 11th 2002 Killer Inuit?
Think of Greenland, think of idyllic images from "Nanook of the North." Now, think again. The hunting habits of Greenland's Inuit will lead to the imminent extinction of Arctic animals, argues Danish journalist Kjeld Hansen in his new book, "A Farewell to Greenland's Wildlife," a synthesis of hundreds of international zoological studies. Greenland's environmental director, Hans Hoyer, agrees that the Arctic faces "an uphill struggle." But he adds that not all Greenlanders—or Inuit—are to blame. Newsweek's Charles Ferro hunted down Hansen for his opinions: Is idyllic Greenland gone for good? The postcard myth of the lonely hunter in his kayak is being blown to pieces. People talk rubbish about the Greenland Inuit being born environmentalists. It's lying, denial and betrayal. Why are they killing off wildlife? Greenland is still hunting with rules from the good old days. The outboard motor, automatic rifles, snowmobiles, GPS navigators and satellite telephones allow huge kills, [but] many of the hunters will still shoot at anything that moves—not just to gather food. What about regulations? Among Greenlanders there is a popular saying: "Hunting rules only apply within sight of a township."What's likely to die off first? Beluga whales will be gone within 20 years. The thick-billed murre population has been cut in half, 16 of 40 colonies shot to oblivion,mainly from illegal summer hunting. Common eider numbers are down by 80 percent, mainly from egg collecting and shooting females on nests. Walrus have stopped visiting Greenland's shores, except for two spots in the north-eastern national park. Hunters in boats still travel out to the drift ice and kill 300 [to] 600 walrus a year. Many behead them to sell the tusks to tourists, and leave the skin and meat behind. If this were the rhino in Africa, you'd have armed guards protecting the walrus. Are Greenlanders aware of the situation? Collective denial is a big part of the problem. Inuit people in Greenland can do nothing wrong—that is still the credo.
Meanwhile, why not try these great LINKS:
http://www.aves.net the best Ohio bird site ever!
http://www.gadwall.com/birding/rules.html hilarious. An example: The Universal Laws of Birding: Sacrificial Lamb Law - "The bird will be seen by others only after you, as the sacrificial lamb, leave." and Wilson's Law of the Gainfully Employed - "Rare birds reported on the tape on Wednesday are usually gone by Saturday." (Gary Wilson)
http://www.jlesser.com/amerlisting.htm also hilarious-- but a little bit bitter -- like delicious dark bittersweet chocolate.
http://www.birder.com SOMEthing for EVERYone
http://birdsource.org learn about the Christmas Bird Count, Project Feederwatch, & the Great Backyard Bird Count,February 16-19 Participate without even leaving home!
http://www.pwrc.usgs.gov/bbl/homepage/longvrec.htm amazing page about how long wild birds live. bird-banding page.
Click below to go back to the page about:
BIRDING or MY RECENT BIRDING ACTIVITY or MY PET BIRDS or MY CAT or MY 3 DOGS or MY HOMETOWN or MY GARDEN or OXBOW LAKE, DEFIANCE OHIO, PAST BIRDING or PAULDING COUNTY PAST BIRDING or INDEPENDENCE DAM, DEFIANCE OHIO, PAST BIRDING or THE REST OF DEFIANCE COUNTY PAST BIRDING or CRANE CREEK/MAGEE MARSH/OTTAWA REFUGE/OAK OPENINGS AREA PAST BIRDING or MY PAST BIRDING EXPERIENCES ELSEWHERE (out-of-state, or FultonCo, WmsCo etc) or MY GENEALOGY or THE HOMEPAGE of this site.